The Way to Nourishing Life – 25 Healthy Foods (1982)
The Way to Nourishing Life – 25 Healthy Foods (1982)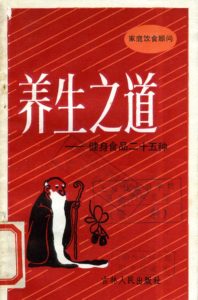 The small booklet "The Way to Nourishing Life" (Yangsheng zhi dao 养生之道), published by the Guilin Renmin Chubanshe 桂林人民出版社 in 1982, is part of a five-book-series that was translated from Japanese into Chinese as the Japanese nutrition science was deemed more advanced than the Chinese in the beginning of the 1980s.
In this particular publication 25 healthy foods or eating methods are explained in detail, some entries are enhanced by tables about the nutritional value. The intention of this book is to clear up misunderstandings in the population on food hygiene and nutritional needs with scientific arguments. The scientificity of eating and drinking is stressed frequently, showing the need to base the author's arguments in a well-established system.
Foods discussed are not only medicinally based foods but also daily foods, such as coarse rice, soy beans, mushrooms and sesame. Still, there are five herbs, which are elements of Chinese Medicine practices listed and discussed as useful supplements in a healthy diet. Other foods that are labeled as health foods include green tea, vinegar and royal jelly.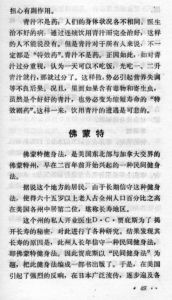 Interesting health foods that are mentioned, are green juices [1] and the Vermont method to supplement with a mixture of honey and vinegar, especially considering today's health craze about juicing and green juices and diets such as the Master Cleanse where a mixture of maple syrup, cayenne pepper and lemon juice are consumed.
[1] For more information see: Endo, Niro (1963): The Miracle Green Juice. Kurashiki: Endo-Aoschiru-no-Kai.
Renée Krusche