A Decade of Socialist Architecture, 1949-1959
A Decade of Socialist Architecture, 1949-1959
The entanglement between power and architecture is a phenomenon which may be as old as human society itself. Architecture is able to function as one of the most common vehicles of power not only because of the symbolic and awe-inspiring effects that it activates through its products. Furthermore, the acts to design, plan, and construct buildings are part of the general way that power operates in occupying landscape and controlling the human body spatially. Therefore, the systematic organization of architectural space not only facilitates physical surveillance of human behavior[1], but also tends to create a much broader sense of aesthetics, where the ideological frameworks such as hierarchy, marginalization, segregation, and so on, are implicitly made to permeate.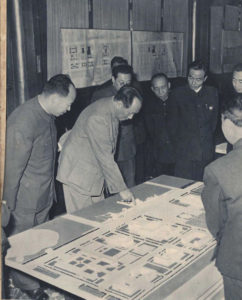 This was especially pertinent to China in the period of 1950s as well as in that of the contemporary reformed period. As the CCP regime came to being, architecture was soon put under its ideological guideline and transformed into a visual weapon to shape and consolidate a new power structure that the Communist state intended. Architectural issues, thus, also fell into a battle field where a new, scientific political order tried to rule out the old, corrupt one. An illustrative example would be the debate over the re-planning of Beijing City around 1955. Liang Sicheng, a renowned scholar of architecture who voiced his support for a protective plan, was criticized through official mouthpiece for "restoring the tradition" [复古主义] and his "capitalist idealism" [资产阶级唯心主义].[2] The politicization of architectural profession, thus, has given birth to a term: "socialist architecture" [社会主义建筑设计], whose legacy is still very much present in urban China today.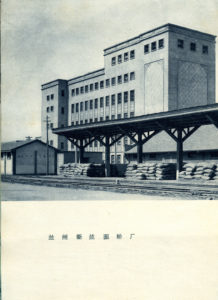 The source introduced here, A Decade of Architecture, 1949 – 1959 [建筑设计十年,1949 – 1959], is of documentary value of the historical context where the aforementioned architectural revolution came out of. A Decade is a photo collection published in 1959 by the Chinese Ministry of Construction [中华人民共和国建筑工程部] as an exhibition of ten-year achievement of architectural design and works. The album is divided into three sections: Industrial Architecture [工业建筑], Civil Architecture [民用建筑], and Architecture in Rural Communes [农村人民公社建筑]. Each of the first two sections further consists of detailed sub-divisions, sorted according to different functions of their buildings. One point of interest is certainly its large number of building and landscape scenes, along with a considerable amount of standardized general layout plans. Yet, for scholars of Chinese politics, more attention may be put to those general and specific introductions that preceded each category of photos, which are both the excellent traces of logic and mindset behind the mega-project of modernizing Chinese cities, on the one hand; and the mirror of the newly cultivated socialist aesthetics, on the other.
Consider the very historical background of the book's publication – The Great Leap Forward -, it is no surprise to find that the whole messages of A Decade is to make showcase of the Party's central propaganda:
六亿五千万人民在中国共产党和毛泽东同志的英明领导下,高举社会主义总路线、大跃进和人民公社的光荣旗帜,高速度地进行着规模宏伟的社会主义建设,从而迅速改变着我国'一穷二白'的落后面貌,大大提高了人民的物质文化生活水平。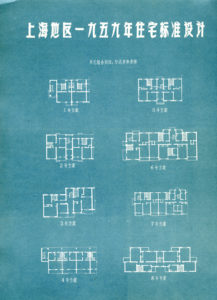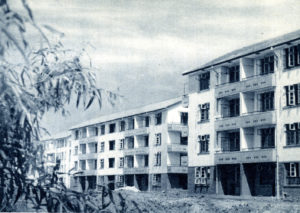 But its argument focuses more specifically on that how the architectural profession was made different by nature from the architecture under capitalist system: Socialist architecture is no longer constrained by what has dominated building design and construction in capitalist societies, which is the pursuit of profit, pleasure, and personal reputation. In the new society, this was not in accord with the interests of the people. Socialist architecture is to meet the genuine interest and need of the masses. Therefore, socialist architecture aims to remove the irrational design generated by capitalism, referring mainly to the waste of productivity. And it is based on such logic that socialist architecture is required to "positively reflect the spirit of the time, and the general condition of social life……and create a socialist new style of architecture in China" ["建筑要从正面表现时代精神,反应社会生活的一般面貌……创造我国社会主义的建筑新风格。"]. What finally emerged as the result of national policy discussion was a corresponding principle to guide all architect after 1955: Be pragmatic, economical; and pay some attention to style while it is affordable according to conditions [适用、经济、在可能条件下注意美观]; and to function as an ideological filter in ruling out competitive trends that does not fit in the new order, such as restoring the tradition [复古主义], functionism [功能主义], and structuralism [结构主义], whose main guilt is either to lean too much over the past, or to go too far to reduce architecture's role in manifesting ideas and spirit of the time.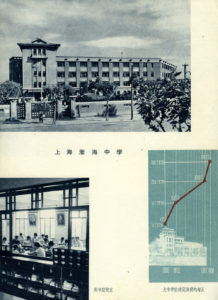 Sources:
建筑设计十年,1949 – 1959/ 中华人民共和国建筑工程部 & 中国建筑学会
[1] Findley, Lisa (2005), Building Change Architecture, Politics and Cultural Agency, London and New York: Routledge, p. 3
[2] 何祚庥(1955),"论梁思成对若干建筑问题的错误意见,"《学习》第十期
Wang Mingde