Slide Shows as Medium of Education (1950s)
Slide Shows as Medium of Education (1950s)

From the early years of the PRC the dissemination of both science and ideology relied on slide shows (tu huandeng 土幻灯) that were considered adequate means of communicating knowledge to illiterate peasants and workers. The Newsletter of Science Dissemination (Kexue puji tongxun 科学普及通讯) that started publication in 1950 emphasizes the efficiency of slide shows in communicating, especially when pictures or drawings replaced text.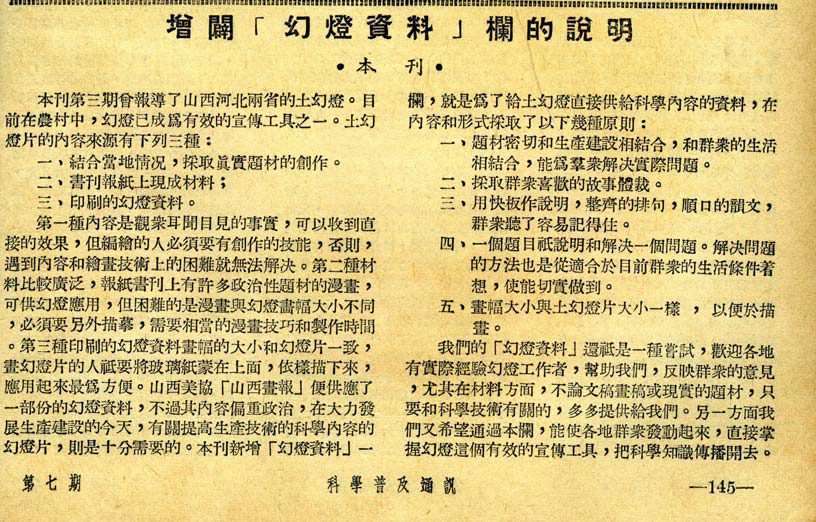 Already Lu Xun had explained his intellectual transformation during his medical studies at the University of Sendai in Japan (1904-1906) by such slides, pointing out in his autobiographical account in Nahan that watching one day in class a current events slide of a Chinese man beheaded by Japanese soldiers for spying during the Russo-Japanese War of 1904-05 made him abandon medical studies and pursue literature instead.[1]
In 1951, the Manufacturer of the Audio-Visual Instructional Instruments (Dianhua jiaoyu gongju zhizaosuo 电化教育工具制造所) under the Office for Dissemination of Science at the Culture Ministry of the People's Central Government that had established a workshop for producing educational media advertised in the year 1950 a list of slide shows dealing with various topics, ranging from heroic stories telling the liberation of China, to the atomic bomb and general knowledge on hygiene and health.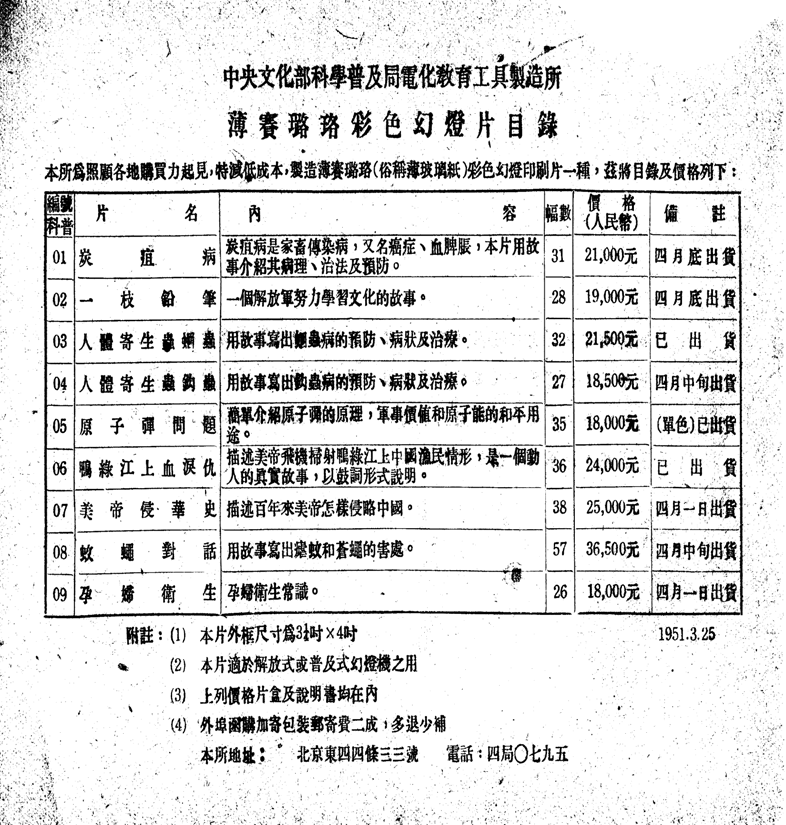 Self-made slideshows, also called "homemade film" (tu dianying 土电影), were highly recommended as an inexpensive, simple, yet effective means of science dissemination. Slideshow equipment is relatively light in weight. For its lighting widely available gas light as well as electricity can be used. These facts make the slideshow mobile enough for traveling in the countryside. Even more important, self-made slides can be easily tailored for specific instructions: they are fast and cheap to make and to revise.[2]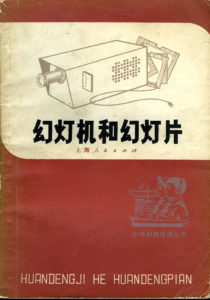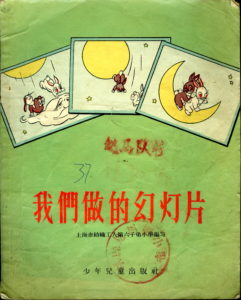 The fact that pictures of slide shows were often first printed as inserts in journals—such as the Newsletter of Science Dissemination or the Science Illustrated (Kexue huabao 科学画报)—and then expected to be scratched on glass slides and shown on the villages squares shows that their distribution cannot be underestimated. Their success in education is not only praised in an article in the Renmin Ribao in March 1954, reporting that the the nation-wide dissemination of 40,000 projectors and 600,000 slide shows is supposed to have reached 300 million people during the first four years of the People's Republic (1949-1953), here assuming that each slide show was shown five times with an average audience of one hundred persons (Ye Fu 1954).
The slides attached to this Text of the Month presents an overview on the ethnic minorities in the People's Republic. They convey general knowledge on the customs and characteristics of minorities to primary schoolchildren. The accompanying explanation to the ten slides show a Han-chauvinist attitude towards minorities by exoticizing them, emphasizing their cultural customs, glamorous clothing and living habits, and it is safe to say that these perceptions—long been criticized by anthropologists such as Dru Gladney—are taught to the children without any further reflection: China simply appears as a happy multiethnic nation.
[1] See here his autobiographical account in the preface to Call to Arms (Nahan), in: Lu Xun (Lu Hsün) (1981): Complete Stories (transl. by Yang Xianyi). Bloomington: Indiana University Press.
[2] After cultural centers in Shanxi and Hebei used it on local festive occasions such as temple festival and livestock shows, their experiences were promoted nationwide. See "Jieshao 'tu dianying 介绍土电影,'" in: Kexue puji tongxun, 1950, no.3, p. 50, "Huandeng shi kexue puji gongzuo de yige youxiao gongju 幻灯是科学普及工作的一个有效工具", no.9, p.184, "Ji huandeng gongzuo taolunhui 记幻灯工作讨论会,", no.9, pp. 184-86.
Bibliography 
Gladney, Dru C. (1994): Representing Nationality in China: Refiguring Majority/Minority Identities, in: The Journal of Asian Studies 53, No. 1, Feb. 1994, pp. 92-123.
Mullaney, Thomas Shawn (2011): Coming to Terms with the Nation: Ethnic Classification in Modern China. Berkeley: University of California Press.
Ye Fu 野夫 (1954): Huandeng – Wenjiao kexue puji gongzuo de liqi 幻灯——文教科学普及工作的利器, in: Renmin Ribao, 19 March 1954.